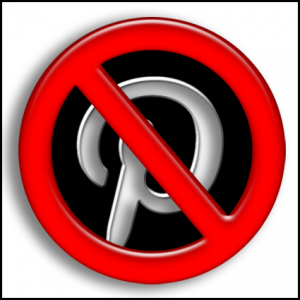 Pinterest may be an Internet hit, but not all companies are as eager to tack onto the pinboard and the resulting referral traffic. Pinterest has now released code for companies that want to block the pinning of content from their sites to personal pinboards, presumably to comply with the Digital Millennium Copyright Act.
Pinterest recently released the code in their help section, which companies can copy and paste onto their websites. When a user attempts to pin a site that employs the code, she will instead see a message stating, "This site doesn't allow pinning to Pinterest. Please contact the owner with any questions. Thanks for visiting!"
Josh Davis of LLsocial.com points out that 99% of the pins on Pinterest are against the company's own Terms of Service. Pinterest states that when users pin items, this indicates they are either the exclusive owners of the material or someone has granted them access to re-publish content. While "Pinterest Etiquette" reminds users to credit sources, and that "finding the original source is always preferable to a secondary source," this tenet is not yet enforced. Pinterest has stated that they will remove any image that someone claims is violating copyright laws however.
The copyright issues were exacerbated by the website's huge growth over the past year, according to Davis. Pinterest, he says, won't be the 2012 version Napster — shutdown for copyright infringement in 2001 — because "everyone loves Pinterest" and images. Importantly, even if the pins are not credited, Pinterest drives traffic back to the original source. To aid in the process, Pinterest is also letting publishers embed a "Pin It" button directly on their website, which is a virtual permission slip for people to share content.