Small to mid-sized businesses (SMBs) have a myriad of choices to advertise today, ranging from online to offline options, word-of-mouth referrals and even branding.  Clearly, the most effective and free advertising is to prominently mark your name and number on your service vehicles, leave flyers and cards or refrigerator magnets after customer jobs are completed, and follow up with low cost marketing such as email or mail out referral cards.
Once you've got the basics covered and you have a plan to diligently address these, getting new customers quickly becomes the next objective.  This is where you'll now have to shell out some significant bucks.  There are many options, including the cable TV, radio, penny saver, local advertising publications, mail packs, yellow pages (online and offline), local online directories, search engines, listing services, etc.
Not too long ago, starting your business was quite simple; open your business, get a listing with the Better Business Bureau and place an ad in the local yellow pages book.  All that's changing now! According to a recent study by Borrell Associates, local traditional media such as the yellow pages, newspapers, TV, radio, magazines and etc. is expected to decline from $101 billion in 2007 to $73.6 billion in 2011.  Over the same period, spending for local online advertising in the US is projected to grow from $8.7 billion to $15.9 billion!  This represents a massive shift for small to mid-sized business (SMBs) moving very quickly from offline advertising to online advertising! 
Surprisingly, SMBs only spend 11% online!  For most businesses, 75% of new customers come from online.  Thus those that hop onto the search marketing bandwagon have a tremendous advantage.
So where should I spend my advertising dollars?  There will always be a mix of offline (such as the things mentioned above) and online marketing.  However, the most important question is "how will new customers find me?"  Fortunately, market analysis again provides the answer.
Today, over 90% of all new customers begin their search using a search engine!
Since the US search is dominated by Google, the solution becomes very simple.  
                                    80% of all paid searches appear on Google!
To fully benefit from all that Google has to offer you must do 3 things:
Be on the 1st page of Google
Be there 24/7
Be there for all the search terms that customers use to find your business 
What are my options for Local Search on Google?  When a potential customer searches for a local company's goods or services on Google, they will see a page similar to the search result below.  This page consists of 3 areas where your business can be displayed: 1) in the paid listing section (shown with the red boxes), 2) to the right of the map (companies listed A – J), or 3) below the map in the organic listings section.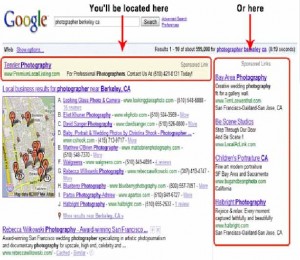 Our program will place you in the paid listings (shown in the red boxes) prominently on the 1st page for all the search terms relevant to your business 24 hours a day 7 days a week.  We can also help you get listed in the maps section at no additional charge.  When we build your online marketing campaign, you'll get a Google optimized website, which will also give you additional online presence in the organic section.
By Carl Perkins, CEO – Performance Media Placement