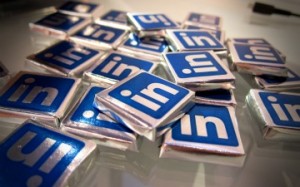 After receiving user backlash over privacy for its newly launch "social ads," LinkedIn had announced changes to the ad formats.
LinkedIn introduced its new social ad formats in June — the Facebook-like ads integrate member activities and information into advertising. The ad format pulls in relevant connections from a user's network into banner ads, using those members' photos and names. Upon launching the ads, LinkedIn explained that users could opt out at any time.
The opt-out feature, though, wasn't enough for users. The company announced on Thursday that due to user feedback it will be changing the ad formats to include less user information. Here are the before and after mock ups:
In a company blog post, Director of Product Management Ryan Roslansky reveals that LinkedIn has realized that "even though our members are happy to have their actions, such as recommendations, be viewable by their network as a public action, some of those same members may not be comfortable with the use of their names and photos associated with those actions used in ads served to their network."

Marketer advertising on LinkedIn is expected to increase in the coming year. It will be essential for LinkedIn to maintain its trustworthy reputation as it opts to expand advertising options and capitalize on the social nature of its platform.
[Via]