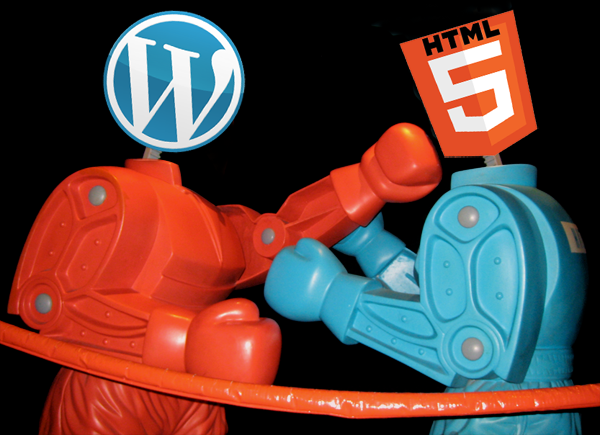 A successful web presence is critical to the livelihood of your business in today's marketplace, and your website is the digital front door. A website must make the first impression on potential clients and is responsible for generating leads and solidifying your brand message. Just having a "pretty" site will not get you to the top of the search engine rankings however, which is where SEO comes into play. With the increased popularity of Content Management Systems such as Wordpress, Drupal, and Joomla, questions have begun to surface as to whether these systems lend greater benefit to SEO than the tried-and-true method of building an HTML site from scratch.
One of the primary decisions when creating a new website is how to manage the site's content. There are two essential approaches: static HTML, which is hand-coded in software such as Dreamweaver or any HTML editor; and Content Management Systems. Which option you choose is dependent on several factors, and each has its own advantages and implications for SEO. For simple sites where the sole goal is to establish web presence, a well-coded static HTML site may be ideal. If you plan on having portions of your site with frequently changing content, (e.g. a blog, latest news, or product pages) a CMS platform may be the better solution.
In considering a CMS for your site, it is important to note how it differs from a static HTML site. Because CMS platforms are database-driven, server-hosted software will dynamically generate site pages as required. This means that the pages no longer reside on the server, but that the application will work with its extensions to determine the website content. Learning a new CMS platform can require some initial time investment upfront, which may be frustrating when you are accustomed to using an HTML template. However, once you learn the technology you will likely find that the XHTML code that the platform outputs is of a very high standard. Because well-formed HTML is an essential foundation upon which to base your SEO efforts, CMS platforms are often valuable in their elimination of "best-code" violations that often occur with Dreamweaver and other hand-coded HTML.
Another advantage of CMS is that there are many plug-ins, often available for free, which are tailor-made to accommodate SEO practices. Via these plug-ins one can easily optimize pages titles for search engines, edit and generate custom page META tags, and manage keywords. Nearly any SEO work that would traditionally be done manually on a standard HTML page is available as a CMS plug-in. In addition, CMS code structures are often optimized for spiders, making it easier for search engines to index your site. As such, a CMS allows for an unparalleled marriage of SEO and valid code…a necessity for optimal organic search ranking.
In theory, a well-coded and optimized HTML site will perform as well as pages from a well-designed CMS site in organic search rankings. However, CMS puts the tools to accomplish this right at your fingertips, making the whole process much more user-friendly and efficient. The pressure of writing perfect and SEO-friendly code is lifted, allowing for more focus on creating and optimizing the actual content. Whether you choose to go CMS or stay HTML, be sure that you have a system in place to measure site traffic and performance. Metrics will be paramount in measuring the growth of your site and catching any issues before they become big problems. For a free 30-day trial of website analytics, visit www.hitslink.com.