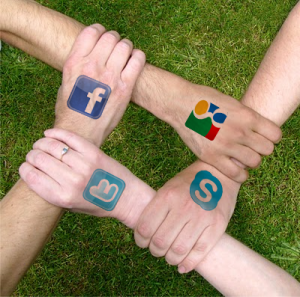 Social media sites became an unexpected lifeline for many when mobile phone networks and some telephone landlines collapsed in the hours following the devastating 9.0 earthquake in Japan on March 11, 2011. Twitter and Facebook quickly became the easiest and most reliable way of keeping in touch with relatives, as well as providing emergency numbers and information to those in stricken areas.
Many mobile phone networks are unable to cope in the immediate aftermath of a crisis when hundreds of thousands of customers try to make a call or send a text at the same time. In Japan, mobile carriers were limiting voice calls on congested networks to cope with the load, with NTT DoCoMo restricting up to 80% of voice calls, especially in Tokyo. Softbank and Au, rival phone companies, were also affected, with Tokyo residents unable to send text messages to friends and relatives. As a result, Skype's VOIP technology presented an efficient working alternative.
Within one hour of the tragedy, tweets from Tokyo were capping at 1200/minute according to data from Tweet-o-Meter. Even the US State Department took part in the social storm, turning to Twitter to publish emergency numbers and information on how Japanese residents in America could contact families back home. Relief organizations also provided resources for non-Japanese speakers left homeless to find shelter.
Jill Murphy, a teacher from Liverpool, said she kept in touch with her 15-year-old cousin via Facebook chat – an instant messaging service run by the popular website. "She was Facebook chatting from under her desk at Yokohama International School, while the quake was going on. It was absolutely amazing."
"She couldn't contact her parents a few miles away – the phones were down and the trains had stopped running – but we knew she was OK on the other side of the world. Facebook and Twitter are automatically the first place you now go to find out what is going on."
The Red Cross was initially overwhelmed with people using its Family Links website, which helps track people during an emergency. Within a couple of hours, Google stepped in and launched a version of its person finder tool for the earthquake. Offered in both Japanese and English, the tool has links both for people seeking information about friends and loved ones in areas affected by the quake and tsunami, as well as for people wanting to post information about individuals.
Technology helped in other ways. NHK, the Japanese government television broadcaster, was streaming footage via iPhone applications to viewers on the other side of the world, allowing people thousands of miles away, and even those without televisions, to watch live pictures. Frequently, these videos were viewed by hundreds of thousands of people before the mainstream media had picked up on them and rebroadcast the footage.
In light of this terrible disaster, it is amazing to see how the internet and social media in particular is changing the way news is disseminated. The events of the past few weeks stand as another reminder that the way we, as a society, spread and consume news is a constantly-shifting target.