Increasingly more companies in the Inc. 500 are utilizing Social Media as a fundamental part of their business and marketing strategies, and recent data suggests that they are seeing increases success and viewing Social Media overall as more valuable.
These firms, including some of most rapidly-growing companies in the private sector, have been using a mix of tactics; Facebook is unsurprisingly the most popular. According to a study from the University of Massachusetts Dartmouth Center for Marketing Research, 71% of companies used Facebook in 2010, up from a reported 61% in 2009. Twitter usage clocks in at 59% for 2010, and blogging gained some percentage points as well with a reported 50% of companies engaging in blogging for the year.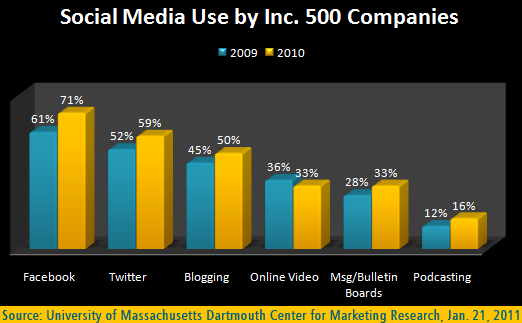 The study found that companies who used social media were finding at least moderate success in doing so. Eighty-five percent of companies rated efforts on Facebook as successful, which represents a significant gain over the 54% reported in 2009. The social media goliath still has not matched message or bulletin boards in terms of reported success however, as 93% of companies view the boards as a success tactic.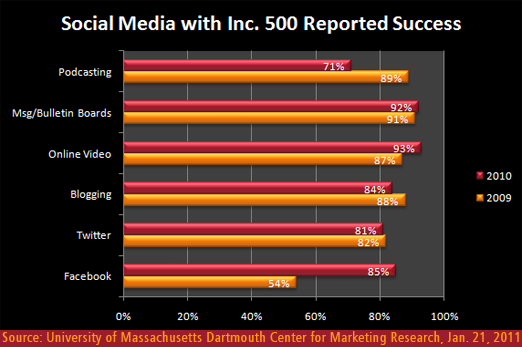 As Social Media continues to increase in prevalence and value, perceptions shift as well. More companies view it as an essential facet of their marketing strategy, with 86% reporting social media technologies to be somewhat or very important to their business in 2010, an increase from 79% in 2009.
It is likely that as new platforms emerge and expire in the Darwinian jungle of the internet, marketers will continue to test various formulas to find the ideal mix of media platforms for their individual companies and goals.