Ther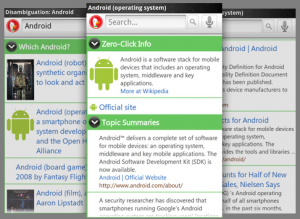 e's a lot to like about previously mentioned DuckDuckGo, and there's even more to like about its mobile app.
DuckDuckGo is a fast search engine that adds a short blip of information above the normal list of search results, in a way that often answers the question being asked. The informative blip is called "zero-click info." For example, typing !amazon pillow will immediately route the user to an Amazon search page for pillows. The same trick would work for just about any site. The newly-released Android App has all the functionality of the full site, but it almost seems more fitting as a mobile tool than it ever did on the desktop.
The zero-click info feature in DuckDuckGo suddenly becomes a major star in the mobile app, since looking up quick questions while away from your desktop computer is when you really want results to be streamlined. That's where the app excels; less than a second after you enter a search term, DuckDuckGo loads a quick bit of essential information about whatever it is you entered. If you entered something vague, then it comes up with a quick list of possible searches that you meant. One click and the info that's most likely to help you is on the screen—it's that simple.
One feature of the mobile app that you won't find in a browser is voice search, which has the potential to really speed up answer-finding when combined with the app's zero-click info feature. Users can also add to this by setting a custom search widget for DuckDuckGo.
[Via]