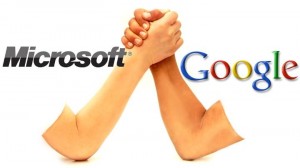 In a case of the pot calling the kettle black, software giant Microsoft has accused search giant Google of not being truthful about the security certification of its suite of software programs for governments. Newly unsealed court documents have shown that despite claims to the contrary, Google Apps for Government has not been certified under the Federal Information Security Management Act.
This is another act in the continuing power plays between Microsoft and Google, largely centered around a contracted email system which Google claims Microsoft unfairly won the bid for. Google further claims that they "did not mislead the court or our customers" due to the fact that Google Apps is FISMA-certified and that Google Apps for Government is "the same system with enhanced security controls that go beyond FISMA requirements."
There is a certain degree of ironic amusement in watching these two corporate goliaths battle it out in a rather public space. Google tends to appear the petulant child crying of favoritism, while Microsoft is the playground bully trying to get Google in trouble for things it was accused of years earlier.
Perhaps we should expect a soap opera in the future?