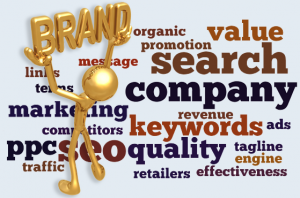 Inflation has become a fact of life for retailers in general, and like so many other markets these days, CPC in so exception. As a brand grows, competition often increases exponentially along with it. CPC bidding wars may then occur, rendering previous marketing strategies less efficient in the wake. Looking for a quick solution, nervous marketers may choose to stop investing in brand keywords to stem the outward flow of money. Diana Gordon, of SearchEngineLand explains why you should rethink this strategy with seven tips below.
7 Reasons To Keep Investing In Your Brand Keywords
Brand Protection
Advertisers who do not bid on branded keyword phrases are more vulnerable to competitors seizing this opportunity. The March 3rd changes to AdCenter's policy regarding trademark keywords just reinforce this point. Any cost savings will be negated if the sales and revenue intended for these terms are picked up by a competitor.
Dynamic Messaging
The fluid nature of paid search allows retailers to update ad messaging in real time, which is tremendously effective during last minute sales and promotions. This also ensures retailers' ads are most relevant during key holidays and seasons. Paid ads are also great for testing new marketing messages for effectiveness before making a wider investment in other channels.
Value Ads Within PPC
New engine features including sitelinks, location extensions, product extensions, PLAs and Rich ads in Search typically only display on highly relevant keywords with high quality scores, aka your brand keywords. Without them, these opportunities become harder to seize and benefit from.
Missed Goals
You could argue that the cost of brand keywords could be saved by capturing this traffic organically. However, this investment is typically quite small relative to the rest of the program. The revenues they generate, on the other hand, are tremendous. Removal of brand keywords will seriously impact retailers' ability to hit forecast goals from this channel. Keep in mind that you won't just feel the loss in brand revenue; you will also see a loss in non-brand influenced revenue.
Shrinking Efficiencies
Each of us knows that our brand keywords are our bread and butter and allow us to support our testing and expansion plans by floating the traditionally less efficient non-brand keywords and content networks. Removing brand keywords will result in shrinking efficiencies in terms of reported ROAS.
Increased Real Estate
By bidding on your brand keywords, you are taking up more real estate within the search landscape. Studies have shown that while the highest volume of clicks is driven by the first positions in organic search results, the lower positions (3-5) still drive significant volume. Before shutting off your brand keywords, you should survey your organic placements to see if you are dominating the landscape above the fold on page one.
Service and Support
Let's not forget that the dedicated service and support retailers receive from vertical reps at the engines, account reps from tool providers, and the large teams from agencies. They are all widely influenced by the investments that retailers make in their PPC programs. The reality is that removal of brand keywords could potentially lead to a reduction in dedicated support from vendors.
Like any strategic planning, a good search engine marketer will always weigh the costs versus the benefits. Removing branded keywords may appear to be a quick fix but has longer-term implications that must be considered. Hopefully you will come to realize the value of maintaining your investment in brand terms.