With Facebook's new version of Questions, brands and publishers now have a quick and easy way to survey customers and/or crowdsource information from readers.
Page owners can pose questions with a set list of answers, as well as allow users to add additional answers for which other users can vote. Additionally, when a user responds to a question, it appears on their personal feed which allows their friends to respond as well and broadens overall reach.
Many prominent brands have already begun implementing Questions on their page to interact with customers as part of their social media strategy. A great example is the Buffalo Wild Wings Facebook page, for which you can see an example question below: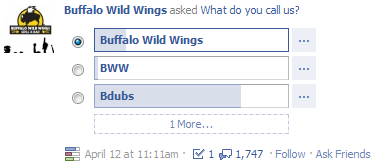 To begin using Facebook Questions on your own page, follow these steps. (Please note that this feature may not yet be available in all countries.)
Step 1: Sign into your Facebook Page.
Go to the "Account" tab at the upper-right side of your Facebook account and click "Use Facebook as Page." Click "Switch" next to the page you would like to be signed into, which should be the page where you want to add Questions.
Step 2: Go to Facebook's Questions Page.
Go to Facebook's Questions page, which both outlines the product and is where you add Questions to your Page. Once there, click on the bright green button that says "Get Questions Now. This action will apply to the Page you're logged in as, so if you'd like to add Questions to multiple Pages, repeat step one and two for the specific Page in question. A pop-up box will open confirming that Questions have been added to your Page.
Step 3: Ask your first question.
You will now see the Questions tab on your Facebook Page. You are ready to ask your first question! You can add poll options and the ability for your fans to add other answers. The question will post to your wall as well as the News Feed of users who have "liked" your Page.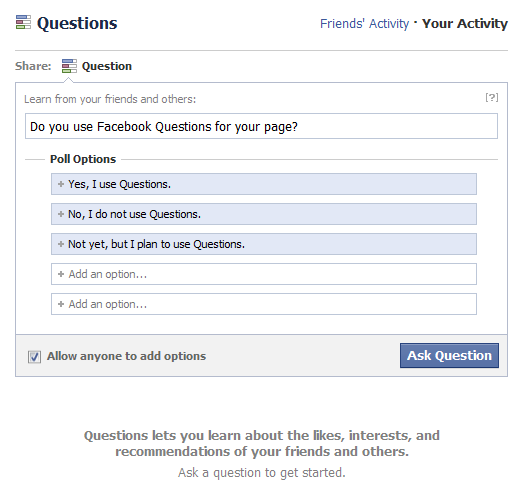 It's as simple as that. Any questions?